---
"Being a dad makes you a better person."

—Marvin Irby
---
Marvin Irby was living in a one-bedroom apartment when his three daughters, Marnee, Mikala and Mariah Irby, came to live with him. He and the girls' mother had recently separated and the family was still settling into the change. When the girls' mother became estranged from the family, Marvin assumed full guardianship of his daughters.
---
"A lot of people told me, 'I couldn't do what you did.' But these are my kids. Sometimes you have to go through things in life that make you stronger, like taking on the responsibility of raising my girls."

—Marvin Irby
---
Sleeping in the kitchen while his daughters shared the bedroom and living room wasn't ideal, so Marvin took on a second job, found a bigger apartment and continued to do what he had always done as a father—be an unwavering source of support for his daughters. "We moved in with him when I was in 6th grade," said Mikala, the middle daughter, explaining that she and her sisters helped by taking on household responsibilities. She laughed, "We basically took over the house. It was like him living with three girls instead of us living with him."
Marvin wasn't daunted by raising three strong-willed daughters. He learned how to keep peace—starting with buying three hairdryers—and held the girls to a high standard, teaching them to act ethically and with compassion, and ensuring they stayed on track in school. "We respect him so much, we listen to what he says," said Marnee, the eldest, "and he has always played a big role with us and our schools."
Marvin, who studied at the University of Arkansas for two years, emphasizes the importance of education in opening up opportunities and improving a person's life. His advice for young people is practical: Get an education, use available resources, don't be afraid to be around kids who are smart and reach out when you need help.
With Marvin's encouragement, Marnee, Mikala and Mariah attended Gary Comer College Prep and participated in activities at Gary Comer Youth Center. Both programs fall under the umbrella of the Comer Education Campus, which serves underrepresented, predominantly African American youth on Chicago's South Side. Marvin spoke regularly with campus staff, who kept him informed about the girls' progress. He said, "Going to Comer gave them guidance, structure and people to lean on. If my kids needed advisors or someone to talk to at school, they had that."
The sisters did well at the college prep and were involved in youth center programs. Marnee and Mikala spent their time after school as members of Green Teens, which teaches youth about the environment and helps them explore green careers. Mariah participated in Free Spirit Media, which provides training and job opportunities for emerging creators, primarily from underrepresented communities, to produce and distribute original news content and pursue artistic, personal and professional aspirations. Through their participation and willingness to help out, all three girls were offered jobs at the youth center in high school, and Marnee and Mikala found jobs through youth center partnerships during college.
Comer Education Campus programs are designed to help youth who will be first generation college graduates. These youth make up more than 90% of the campus' student population. The Irby girls' Comer experience prepared them for success in college. In the spring of 2018, Marnee completed a B.S. in Education and Social Policy with a concentration in Human Development and Psychological Services from Northwestern University. After graduation, she began working at MetroSquash, a program that promotes academic achievement, healthy lifestyles and access to opportunities for underserved youth in their time out of school. Marnee is an alumnus of MetroSquash and will serve as its academic coordinator for Evanston when the program expands in the fall. Marnee plans to return to school in a few years to earn her Master's in Social Work, become a clinical social worker and continue helping youth.
Mikala and Mariah are on track to graduate from the University of Illinois Urbana-Champaign. Mikala is studying communications with minors in public relations and business management and is interested in earning a Master's in Human Resources. 
---
"I knew I needed to go to school to have a better life. My dad always encouraged me to go to school and do things to broaden my horizons."

—Mikala Irby
---
Mariah, the youngest, is studying political science and wants to earn a law degree so that she can give back to her community. She said, "I want to help minorities and people who can't afford expensive lawyers." Mariah is close with her dad and said she is in school because her dad explained that people are looking to her to be a leader and "with education I will go way farther."
Marvin is proud of his daughters and their accomplishments. "They are all very smart, but the willingness to not give up or feel sorry for yourself, that's the key," he said. Marvin set an example with his strong work ethic and cultivated "go-getter" attitudes in his girls, advising them to stay focused on their goals. Marnee said, "My dad working hard and being there for us made me want to be a better person."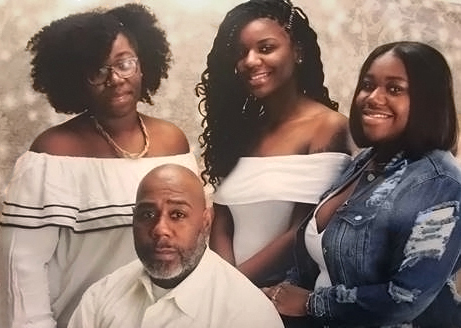 Parenting and providing the emotional support his daughters needed wasn't always easy. Marvin believes it is important to have family around and the girls had little to no communication with their mom. Marvin welcomed help from his father, who was instrumental in managing schedules and transportation, and encouraged relationships with the girls' grandmothers. Mikala was especially close with her paternal grandmother and visited her regularly to help with cooking and cleaning until she passed away from Alzheimer's a year ago. Marvin's mother was a big part of their lives and her illness and passing were hard on them.
Financially it was tough too. The majority of Gary Comer College Prep students are raised in a household with a single parent or caregiver and more than 90% are low-income. Marvin never let his own family's situation get in the way of his girls having what they needed. He said, "With three girls, it takes money. I spent a lot on hair, clothing, books and things going on around the school." Having his daughters close in age meant three proms in five years and a year with all three in college and needing his support.
Living in the Greater Grand Crossing neighborhood on Chicago's South Side also brought challenges. Mariah said they were not allowed to be out in the neighborhood because it wasn't considered safe and Mikala described her dad leaving work to drive her the two blocks from school to home. She said, "He always makes sure he is there to support us. There has never been a time when I called my father and he wasn't able to come through and help me."
As Marvin's daughters attest, he believes in standing by your kids through thick and thin. He wants them to be good, happy people and is pleased with how well they are doing. He said, "I do whatever I have to do to make it work because I love my kids."