Housing 30 million artifacts and specimens across 1.3-million square feet, Chicago's Field Museum is one of the most celebrated museums in the country. Although best known for its dinosaurs and natural history exhibits, since March, the museum has a new claim to fame: It is one of only a few museums nationwide to earn LEED Gold certification for existing buildings.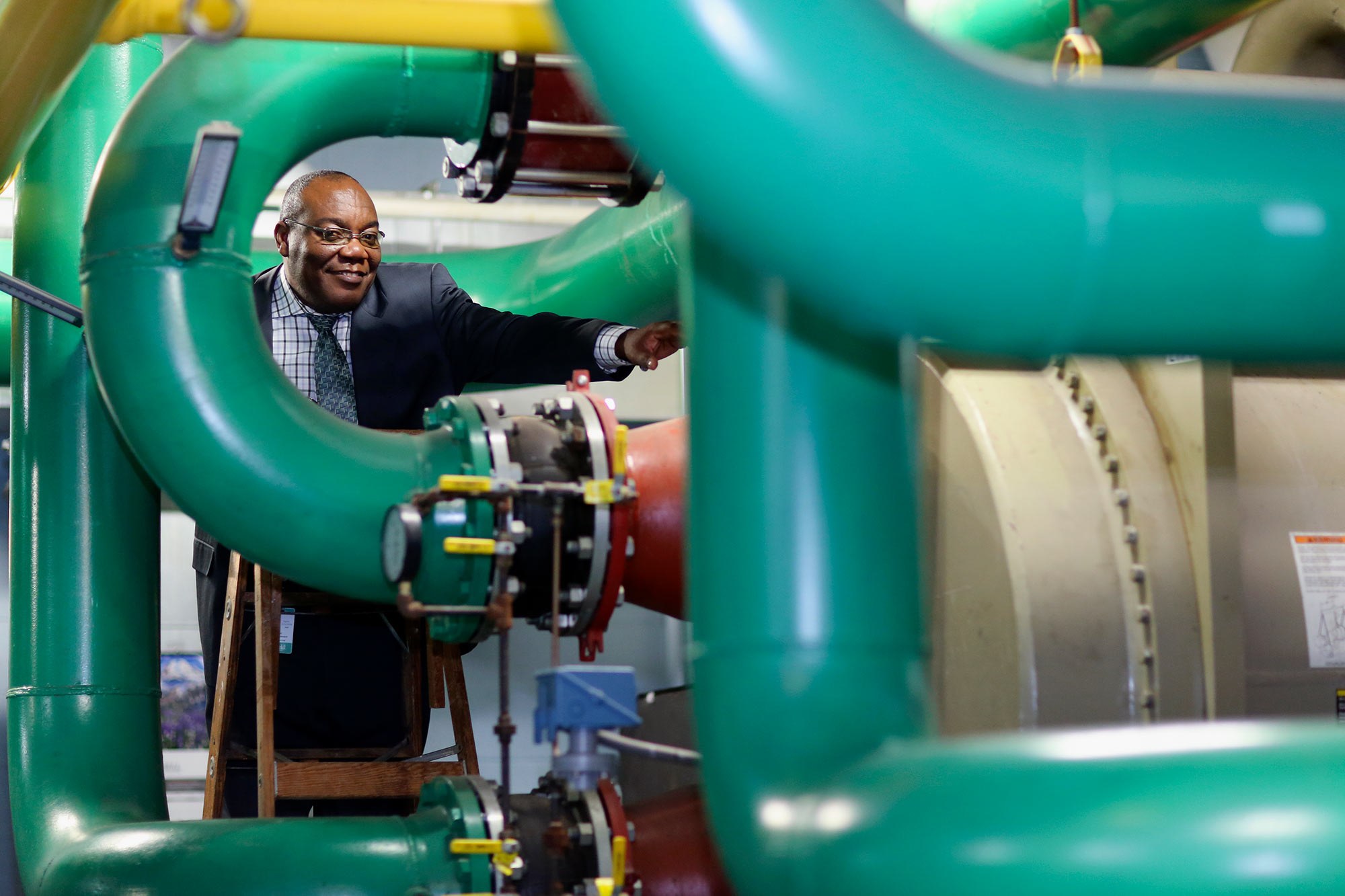 ---
"I asked myself, 'What am I getting into?'" says Ernst Pierre-Toussaint, the museum's director of facility planning and operations, reflecting on the challenge of pursuing the LEED distinction for the sprawling, 94-year-old building. "At the end, it was very rewarding. Everyone's talking about it."

—Ernst Pierre-Toussaint
---
Pierre-Toussaint, a 35-year veteran of the museum, says that the award was the culmination of efficiency-conscious renovations made over the last 25 years – before LEED certification even existed. But even with gradual renovations paving the way, getting the gold was incredibly hard to achieve, leading some people to question whether the museum should settle for silver.

"Why go for gold?" Pierre-Toussaint asks, rhetorically. "What would Michael Phelps say if you went for silver instead of gold!?"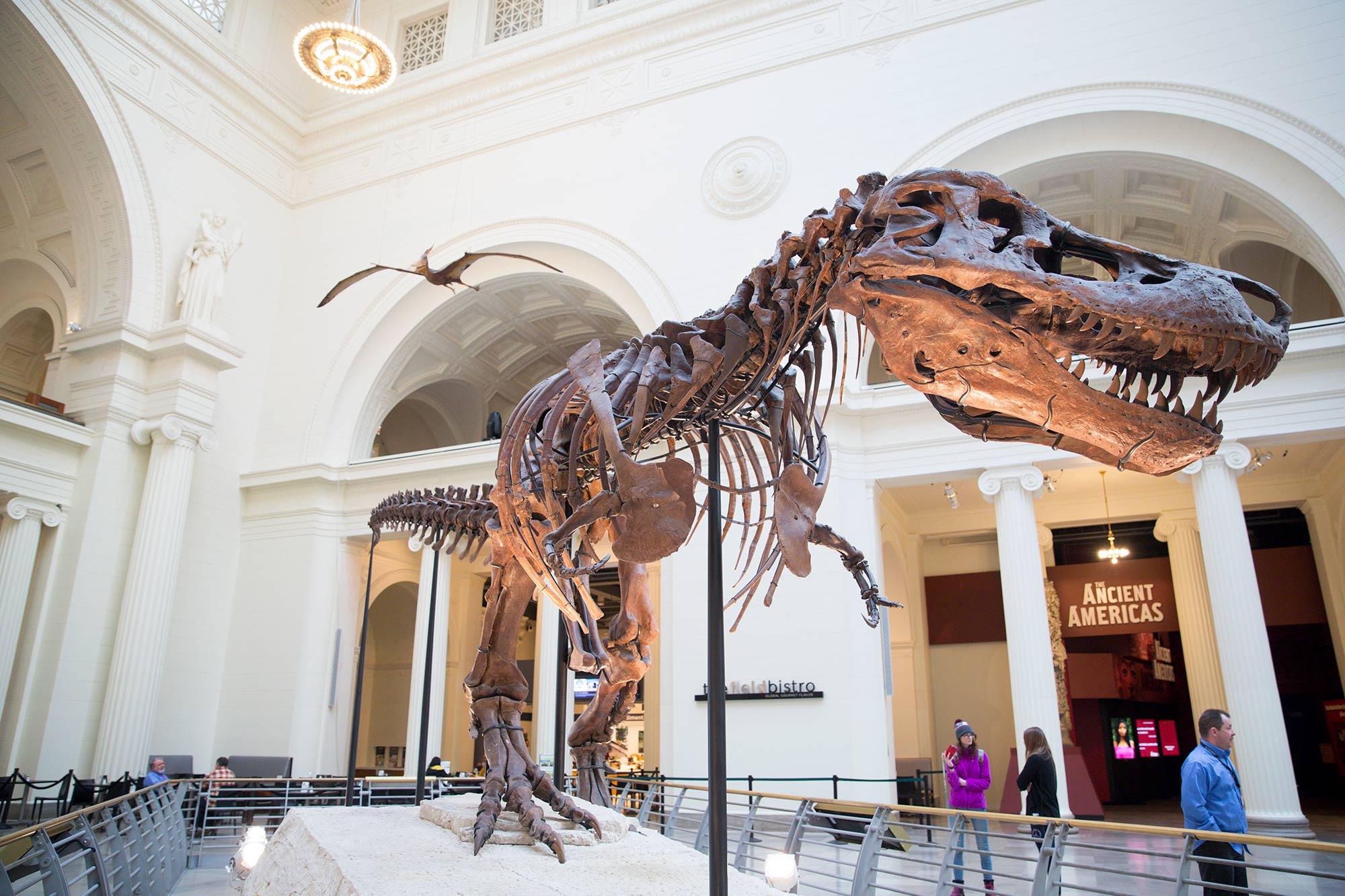 Beyond its size and age, Pierre-Toussaint says that earning the certification for the museum was challenging on a variety of levels. "You can almost count it as six or seven buildings together, with their own conditions," says Pierre-Toussaint, listing the restaurant, theaters, collections, library, store and exhibit hall that share space under the museum's 5.5-acre roof.
"Most LEED spaces are 9 to 5 and shut down at night," says Kevin Dick, director of strategic priorities with the Delta Institute who has partnered with the museum since 2013. "This has spaces that are constantly conditioned."
Keeping the artifacts at an appropriate temperature and humidity represents the greatest use of energy at the museum, with heating and cooling each taking place year-round.
"It comes down to how tight the temperature and humidity needs to be," says Dick. "If you look at any energy bills, almost all of it is heating and cooling and moving around air."
"Maintaining a temperature that supports artifact preservation is only part of the battle. "The temperature isn't the problem – it's the humidity," says Pierre-Toussaint, mentioning that some exhibits, such as the Chinese terra-cotta warriors soon to visit the museum, are more sensitive than others.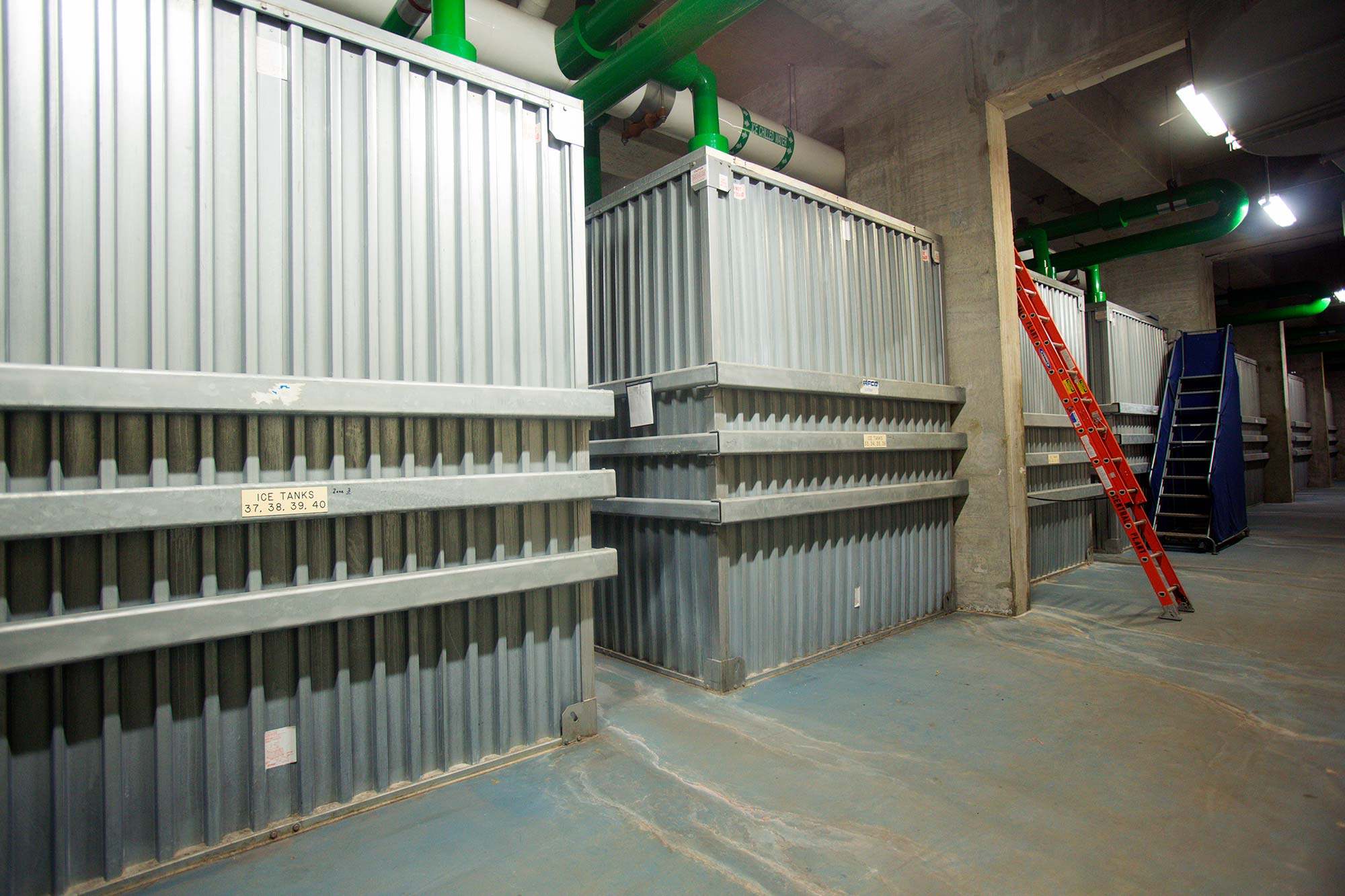 "In order to get humidity out of the air, you need to run it across a cold surface," Dick explains. To cool the building in a way that combats humidity and goes easy on the building's carbon footprint, the museum has a secret weapon locked deep in the basement. Behind an insulated door, hulking 5,000-gallon tanks fill a frigid room. The 48 tanks, each more than 10 feet tall, are filled with water that is converted to ice every night by tubes containing sub-zero glycol. The ice melts during the day and is used to cool the building.
"We do it at night so we're not taxing the grid during the day," says Pierre-Toussaint, explaining the rationale for making ice at off-peak hours, when energy is in lower demand and cheaper.
"It functions like a thermal battery," adds Dick, as the ice essentially stores energy for daytime use.
The Field Museum consumes approximately 20 million kilowatt-hours of electricity annually – a total that has been dipping down in recent years. Although heating and cooling represent the greatest use of power, the more than 20,000 light fixtures that fill the building account for 10-20 percent of overall energy usage.
To boost efficiency, Pierre-Toussaint and Dick have begun converting to use of LED bulbs. While all lighting causes fading and generates heat that can harm artifacts, they say that LEDs are better in both areas.
"We estimated the budget would be $1.3 million for lighting replacements," says Dick. However, he and Pierre-Toussaint warn that the switch is a slow process, joking that you can't close the museum – open 364 days a year – to spend three weeks changing light bulbs.
Pierre-Toussaint is not resting on his laurels in the aftermath of receiving the LEED award. In many ways, he insists that the hard work is just beginning.
"The challenge with LEED is we need to re-certify every five years," he says. "I cannot relax because five years from now, we need to get that gold again."
He expects an even greater challenge the second time around.
"The next phase will be a little bit tougher," he says. "[On the] first application, you show 3-6 months performance. The next one you have to show them a year-and-a-half performance."
Dick, too, is continuing to help hone the museum's efficiency. He says they have monitoring systems in place that enable them to analyze all the museum's energy usage, from laboratories and projectors down to plugged-in appliances.
---
"It's hard to know where to start if you don't have that granularity."

—Kevin Dick
---
Pierre-Toussaint says there are plenty of projects lined up to help the museum build on its eco-friendly success. "It's not finished yet," he says. "We have a ten-year plan of projects." Those projects include the ongoing conversion to LED lights, changing surrounding landscaping to native plant species, and meeting composting goals set by the restaurant.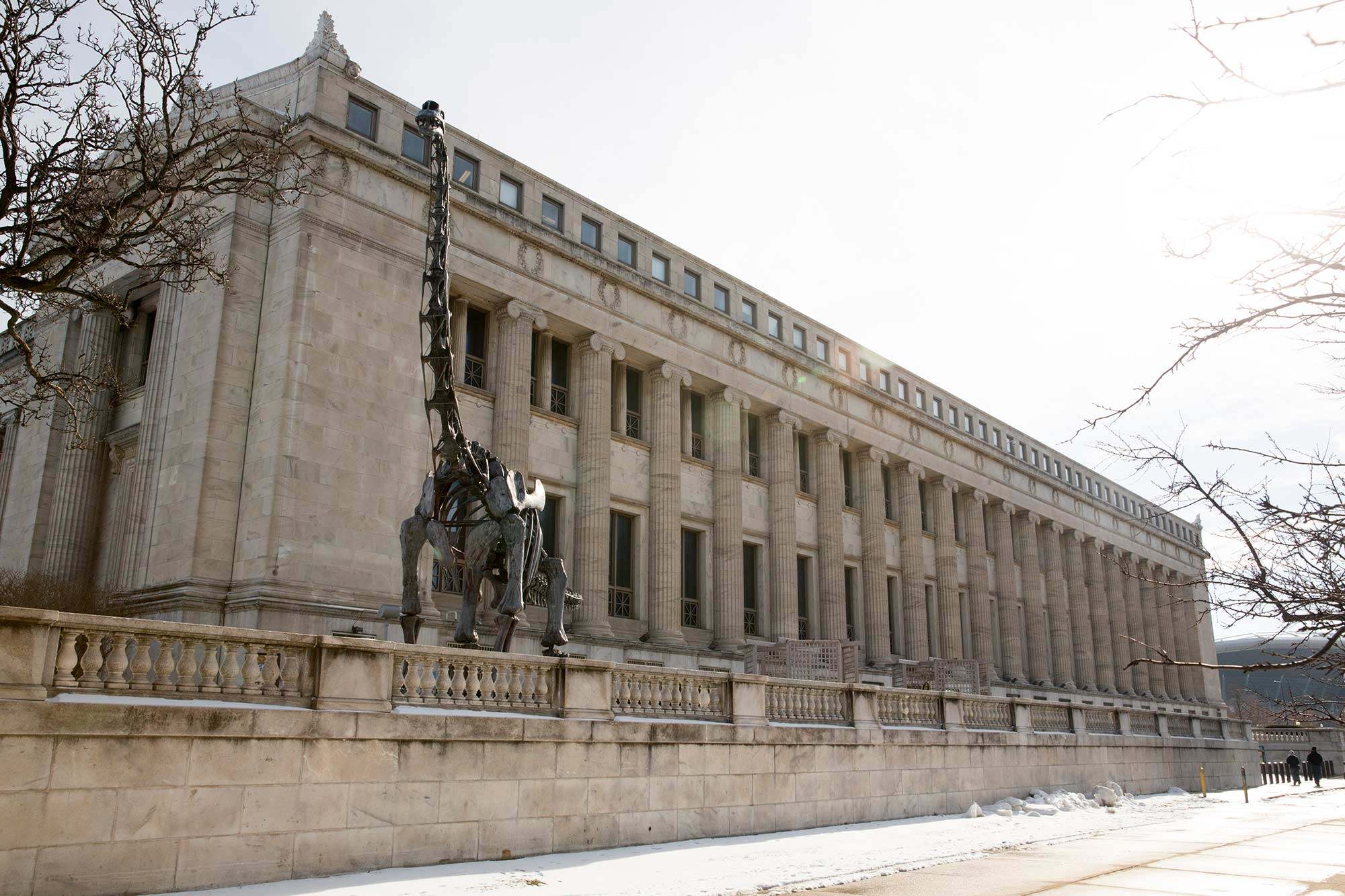 ---
"It can be daunting. You can't do it all at once, you have to do it in phases. Do one thing at a time, do it well and move on."

—Kevin Dick
---
Through it all, Pierre-Toussaint maintains that, "the collection is the priority," and constantly evaluates ways to maintain the museum's integrity while increasing its efficiency.

"Technology keeps changing and we're just trying to keep up with it," he says.