Like many recent college graduates, the possibilities feel infinite for DeShawn Armistead. Equipped with a broad liberal arts education and enough enthusiasm to charm even the most hardened cynic, DeShawn stands ready to embrace the world.

---
"I am about to do something amazing. It's time to go make it happen."

—DeShawn Armistead
---
DeShawn believes his education from Connecticut College prepared him to dive into a professional career. His course load included classes ranging from the "The Sociology of Walmart" and "Africana Studies" to an independent study making YouTube videos. As a government major and philosophy minor, DeShawn finds politics particularly interesting. The upcoming presidential election inspired him to design a course for himself making videos explaining candidates' positions on key topics. "I want to persuade young adults to go vote," he said. "Like seniors in high school who just turned eighteen years old—I want to encourage them, like, 'Hey, you might not be thinking about health care right now, but when you're in your thirties and you have a family, stuff like this matters.'"
DeShawn comes from an educated family and when asked about attending college he smiles.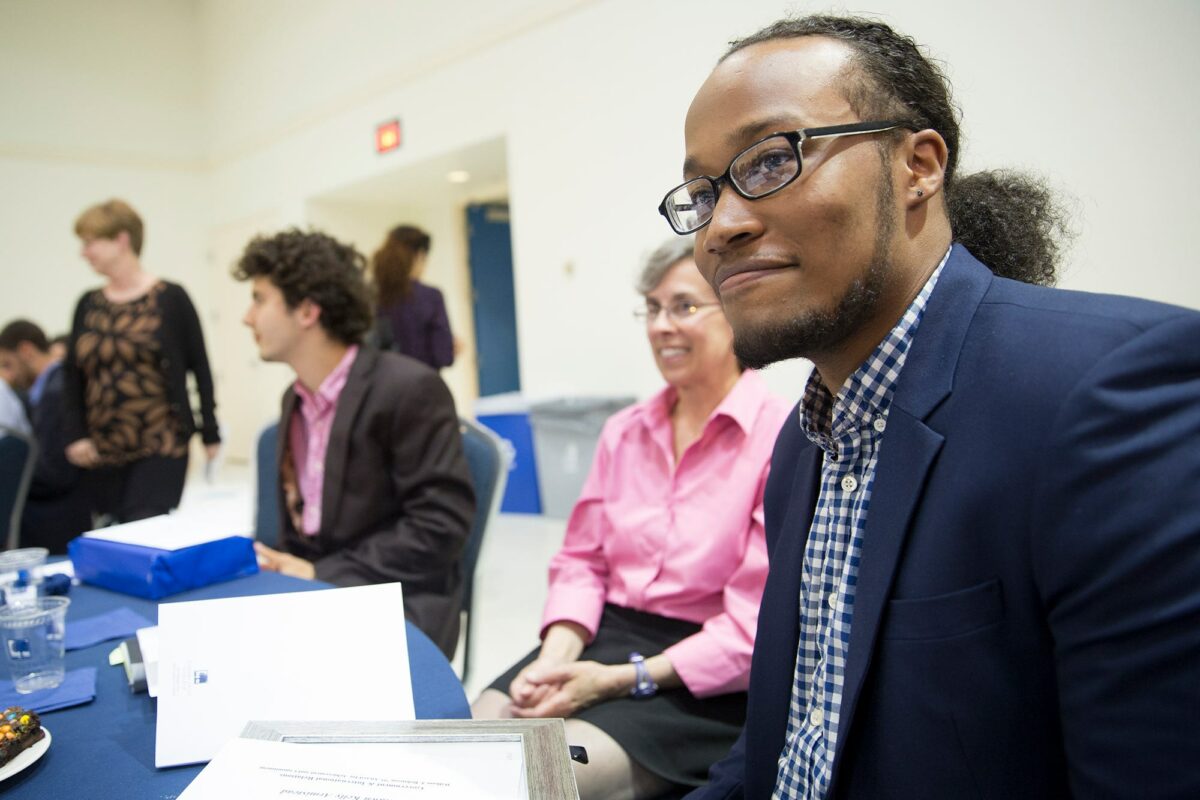 ---
"It wasn't a choice. My mom said, 'DeShawn, you're going to college.' That was instilled in me from when I was a young kid."

—DeShawn Armistead
---
While many of his peers from Gary Comer College Prep were the first in their families to attend a four-year university, DeShawn's mother and grandparents had bachelor's degrees. "It gave me a leg up," he said. "They could relate to some of the issues that I was going through. If they hadn't gone to college, they probably would not have understood how stressful midterms can get or finals or moving into the dorms. Just typical things that happen on campus, they understood, which was great."
Childhood for DeShawn was marked with happy memories of spending time with friends and going to parks on Chicago's South Side, but his early education was not stellar. When it was time for high school, DeShawn and his mother went to an open house at Gary Comer College Prep where they talked with the principal and decided that it was worth the trek from their neighborhood for DeShawn to attend.
Going to Comer was the right move for DeShawn who said, "I had a chance to get caught up and excel as a student. I was always under the impression that people were just born smart, so when other kids in elementary school would get A's and B's and I didn't, I would think to myself, 'I guess I'm not a smart kid.' But when I got to Comer and came into contact with teachers who cared about their students' education and I became invested in my studies, when I first brought back my report card and it had a 3.5 GPA, a light bulb went off in my head. It was really a touching moment for me because I realized I could do this."
Knowing that he could achieve academically motivated DeShawn to take high school seriously. He started focusing on his studies and spent time after school doing homework and playing chess at the Gary Comer Youth Center. DeShawn believes the structure and discipline employed at Gary Comer College Prep as part of the Noble Network of Charter Schools was key. He said, "All of that stuff works because it puts your work for your education first. You have all of these reminders that you have to be ready for college and you don't have time to goof off."
DeShawn's efforts earned him a Posse Scholarship, which provided full tuition to Connecticut College. The Posse program selects high-potential students to form diverse teams and enables them to support each other and be catalysts for social change. The program increased DeShawn's confidence and introduced him to valuable contacts. He said, "Being a Posse Scholar, you become surrounded by people from different backgrounds that have drive, personality and ambitious goals. You get surrounded by future leaders."
Although DeShawn originally thought he would go to law school, after further consideration, he decided to explore his options. "I want to get as much exposure to different areas that interest me as possible," he said. "Whether that comes back to being at a law firm or an investment firm or a non-profit—I am trying to figure it out."
Through using what he learned from the university's career center about LinkedIn and leveraging Posse connections, DeShawn is building his network and learning more about different professions. He recently had dinner with an older Posse Scholar who is working in a field that interests him and shares a similar background. "I reached out to him to ask, 'What does it mean being a black male from Chicago who went to Connecticut College? What does that mean in the real world and in an environment like an investment firm? And how do you deal with that?'"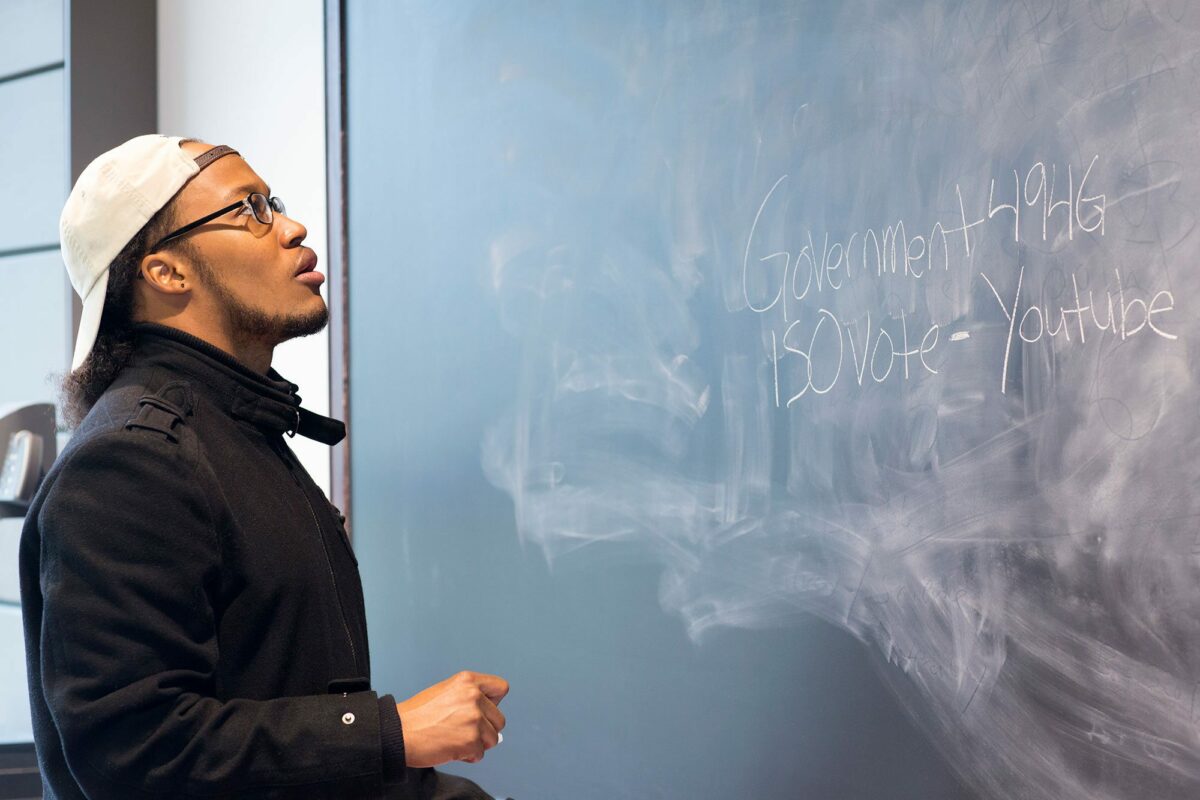 DeShawn feels confident that he will find a good job and believes the biggest hurdle will be, "getting my foot in the door because there's so many other college graduates that are also looking for jobs. The challenging aspect is being recognized, standing out from the pack." DeShawn also believes finding the right career will take patience—a skill he honed while playing chess—and knowing that things take time. He said, "My first job or the first place I work, it might not be the position or environment that I want to be in but with patience and reminding myself that it's going to happen one way or another, I can breathe easy and deal with it."
Having strong support from those around him is also a motivator for DeShawn. "Even when sometimes you might not believe in yourself, when other people depend on you and count on you and believe in you, it makes all the difference," he said. This appreciation for others is reflected in DeShawn's own objectives. "I want to be in a position where I can financially take care of my family—my mom, my aunt, my father, my grandparents," he said. "After that, I'd like to give back to my community. Giving back is the ultimate goal."
From DeShawn's perspective, there is reason to believe in a bright future.

---
"People that want to do better and promote good change give me hope. Those people are everywhere and they have aspirations too."

—DeShawn Armistead
---