The following interview with Executive Director Mary Howe was recorded on July 30, 2020
I feel we exist to build. I always say the most important thing is to bear witness to young people's lives. Our goal is to build meaningful and trusting relationships with young people experiencing homelessness. It's really about building these individual relationships that have a ripple effect on the larger picture of people's lives within the community.
What's been really interesting about the last several months, and prior to the shelter-in-place, [is that with the rise of] fentanyl, we're seeing a lot more people switching from injecting to smoking [opioids]. I've been here [for] over 20 years, and I've never seen that kind of massive shift in behavior. We don't have a clear understanding of it.
Everyone should have naloxone. Everyone should learn to use a relational amount of a drug if they've never used it before. You should always have someone with you. You shouldn't assume [what's in your supply.] We've had a few more overdoses in recent months of people who thought they were doing cocaine, and it's fentanyl. People who are injecting and snorting who are thinking they are doing other drugs are at a much higher risk [of overdose]. We have been handing out a lot more test strips, and really using those moments as a way to engage around safety.
Like many of us, very early on we didn't really realize how deeply [the pandemic] was going to affect our work. We never questioned for a minute if we were going to be essential. We just decided we were, so we didn't miss a day of service.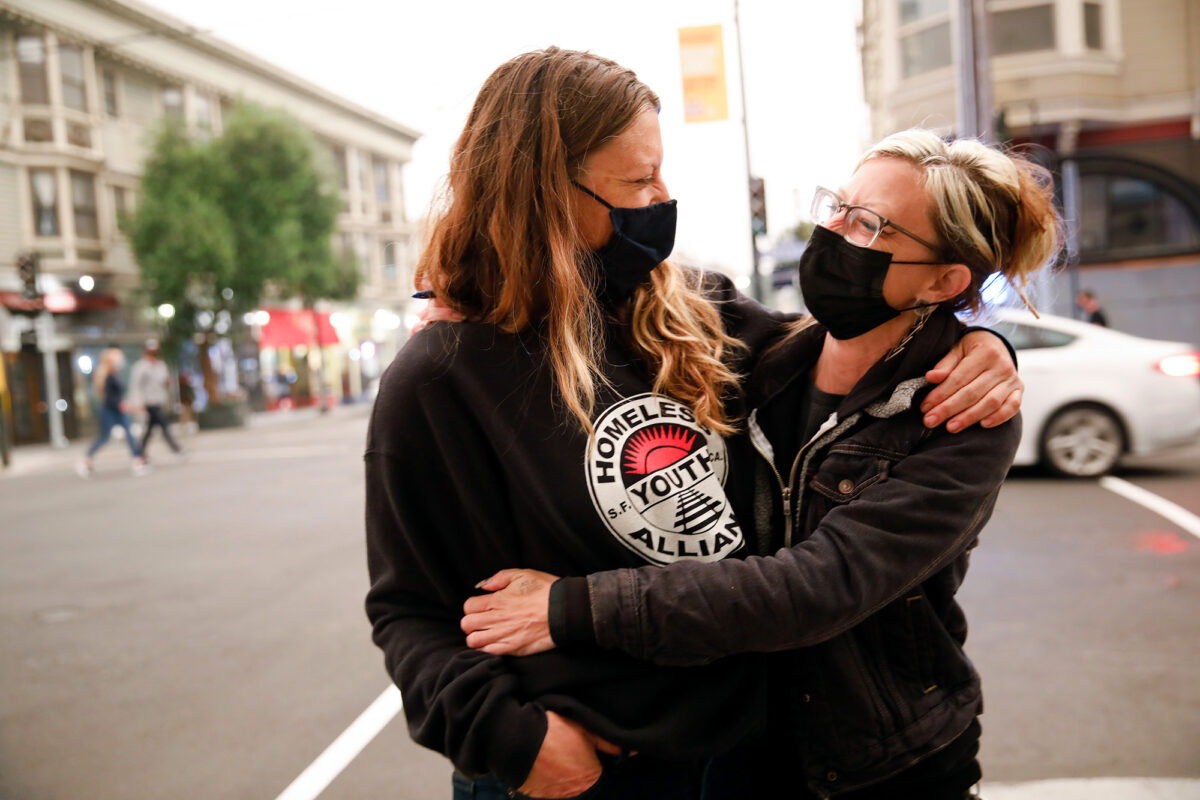 I had this immediate moment where I was like, oh my God, we're not going to be able to get people things they need when they need them.
—Mary Howe, Homeless Youth Alliance
The things that shifted automatically that day [the shelter-in-place was announced] were overwhelming. [It] was supposed to go into effect the next morning [and was] announced right before we opened the syringe access program. One of the things that happens with that program is we work [predominately] with people experiencing homelessness. People will often show up without shoes or pants, or need clothes. One of the staff or volunteers will take them over to Goodwill and buy them clothing. We also would do emergency meals on demand, so we would run and get [food for] people who were really hungry. That first night, the businesses on Haight [Street] — we're in a very commercial corridor — had already boarded up. I had this immediate moment where I was like, oh my God, we're not going to be able to get people things they need when they need them.
I drafted this email to all the neighbors I knew, [identifying the] needs of hot food, emergency clothing, and shoes on demand. I asked if the neighbors would come together and help us figure out creative solutions. Two things happened. One of [the neighbors] spearheaded a clothing drive for us. Another neighbor who I've known for many decades organized neighbors to start cooking food. The neighbors have literally been cooking a hot meal for 80 people, Monday through Friday, since that day, which is amazing. Those are two really huge things that really were community-led.
Our whole medical team has continued to work as well. We're really creative about how we utilize the space and services. We've not missed a single day. It's amazing. Then the whole CAMP [Community Action Made 4 People] thing happened, which is a whole other story.
There was CDC guidance put out very early that said people who are homeless should be put inside in non-congregate settings. We kind of knew early on that our mayor was not going to pay for thousands of empty hotel rooms to house people in. The CDC guidance was in lieu of getting people into hotel rooms, that people should be given tents so they would at least have some sort of protection.
There was a very large tent drive done by many organizations and individual advocates and us. Thousands of tents were bought and handed out to homeless people all over San Francisco, and some of those were in the Haight. Here, street homelessness is often less visible to the neighbors, because so many of our folks sleep in the parks. It's not like you're seeing tents erected on the street, generally.
When the shelter-in-place happened, people did start setting up tents on the street. When that happens, we call that visible poverty. People were not happy about it, and by people I mean housed people. We wrote a proposal [for a tent camp] that we floated around to every city official and department I could think of. Then at some point, it gained traction. The city decided to really try. They sanctioned them, calling them "villages." Early on, before we knew it was going to be a real thing, I hired two staffers to do outreach specifically to the people who were living in tents in the Haight. People seemed really into the idea.
They gave us a slot to build a second safe sleeping site. I obviously have very mixed feelings about the idea of this actually being a solution to poverty, but I do think it is something the community itself had interest in, and wanted to try. That space has 43 sites within it. They're socially distanced squares, and everyone has their own tent. You get a locking trunk and a lantern, a sleeping bag and a pillow. The neighbors gave [the residents] all little marigold plants. Everyone has their own little square. Some of those have couples in them, some of them are individual. We have showers, and hand-washing stations. We have a little house where we do therapy and medical care.
We saw people's behavior and spirit change almost immediately upon having those spaces, because they no longer were being harassed by the cops all day long or having neighbors film them and yell at them. And they weren't forced into these really small congregate settings. They were able to also space out and have a space that [was] really their own.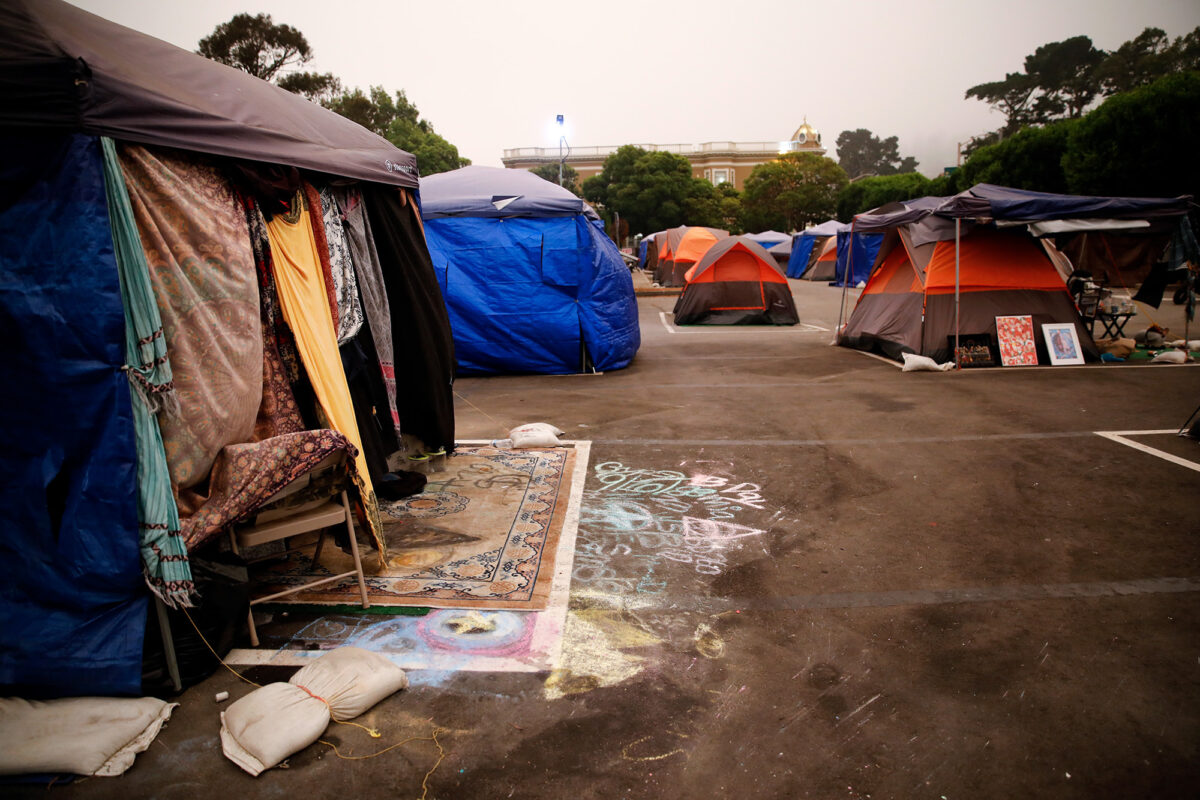 One-year reflection: interview with CAMP Project Director Eliza Wheeler was recorded on July 8, 2021
Homeless Youth Alliance's project, CAMP: Community Action Made 4 People, was a temporary sanctioned tent encampment that existed from late May 2020 through June 2021 in the Haight-Ashbury district of San Francisco. CAMP was the second of what the City of San Francisco refers to as a "Safe Sleeping Village." These projects were created as a direct response to the pandemic, with the goal being to reduce the risk of COVID-19 spread among people experiencing homelessness by offering a space where people could socially distance. While some could say CAMP was successful because we had zero COVID cases among residents [and] staff, for us its success was far greater than its intended outcome: It was a home.
To reflect [on] or summarize the experience of CAMP is difficult. It was an imperfect, messy, beautiful, challenging, and transformative experiment in providing safe and dignified shelter to the people we are honored to work alongside. Over the year, CAMP provided safe shelter to 84 individuals of all ages, 21 dogs, two litters of puppies totaling 20 pups, and three cats. The residents made art [and] music, connected to medical and mental health care, deepened their relationships with HYA [Homeless Youth Alliance] and strengthened as a community.
CAMP offered them stability and reprieve from the constant pressures of the street. Residents navigated crises and conflict, cared for their beloved animal companions, did acupuncture and yoga, got their IDs and accessed benefits, cured their HCV [Hepatitis C virus] cried, laughed, fought, made friends, lost friends, mourned friends, struggled, persevered, took chances, trusted, opened up, protected each other, showered, slept, ate, cooked for their friends, decorated their living spaces, and most importantly, were able to live and be seen in their own community, as a community. We were able to provide a safe, trauma-informed, and minimally structured environment for people who use drugs [and] people experiencing complex trauma, mental health issues, [and] physical health issues — some of whom have a deep distrust of programs, shelters, and institutions — [by] using a harm reduction framework and a commitment to honoring the autonomy and dignity of the people who chose to live there.
We knew since its inception CAMP would be temporary ([it was] originally predicted [for] three to six months). Winding it down and closing it after a year was an emotional experience for the people who lived and worked there. As the date loomed we had discussions with every single person about where they would like to see themselves go upon the closing. We also surveyed each person about the different options available to them and how they felt about each one.
A foundation of the HYA ethos is honoring the autonomy and dignity of people experiencing homelessness, and always centering their needs and desires for their own lives. We tried our best to honor this guiding principle as we helped people navigate the impending closure of CAMP and make informed decisions about their next steps. For the majority, none of the relocation options presented were what they wanted, largely because none of the various options were located in or near the Haight. We did our best to advocate for people to move together when possible. Still, not everyone was able to accept an offer [of] alternative placement, and [some] returned to the street. While perhaps the closing and moving people out of CAMP was extremely hard to watch and be part of, the people we work with are extremely resilient and will persevere as best they can.
Despite the difficulties of closing, the community came together and worked hard to cultivate some joy and celebration during the last few weeks. Staff and residents organized an art show featuring work by CAMP residents that was open to the wider public, and we held a closing barbecue the weekend before closing where our neighbors and supporters provided food, camaraderie, and support to residents and staff. We designed and hand-printed CAMP t-shirts for residents and staff and created a CAMP playlist of songs chosen by residents and staff to reflect their experience. It's over 8-hours-long.
There were challenging moments and things we would have done differently if we could go back, but it was also radical and transformative and beautiful. CAMP may have closed, but we believe the folks who lived and worked there will take this experience and its lessons with them as they continue on their journey, and it will have a lasting impact we may not even understand yet.
To read more of the story, stay tuned to our website, as we will be sharing a much longer piece [on] our experiences and advice for others seeking to replicate similar projects. But know this: We are still in regular contact with many of [the people who called CAMP home], as [they] are still connected to many of our services or stay in touch through our social media pages. HYA's deep, decades-long relationship to this community — built on respect, trust, and consistency — is the reason for this. The residents of CAMP will continue to be members of the HYA community, and this is why it was successful from Day One.