At a young age, Topel Wright was inspired to find her place in the world, and her strong sense of self drew people to help her. Wright's grandmother taught her how to read, her teachers encouraged her academic excellence, and Gary Comer offered her a life-changing opportunity.
In the early years of Wright's life, Wright and her brother moved around the South Side of Chicago with their mother and grandmother. Wright's mother struggled with addiction, and so it was her grandmother that acted as the primary caregiver until she passed when Wright was 18 years old. This was a difficult blow for Wright, but she was practiced at maintaining focus through turbulent times and kept her plan to go to college, which her grandmother had always wanted her to do. 
Through a unique twist of fate, Comer funded Wright's college education. After Wright earned dual degrees in business marketing, and advertising and public relations from Loyola University, a member of Comer's staff helped Wright obtain a position at The PrivateBank in Chicago. Eight years and several positions later, Wright is an officer in credit risk management, creating forecasts and using trend analysis to assess business risks for the bank's loan committee. 
Wright was one of the first beneficiaries of Comer's efforts to help young people in Chicago's Greater Grand Crossing neighborhood. Wright met Comer in 2000, when she was in eighth grade at Paul Revere Elementary. Comer had come back to visit the school, which he attended as a youth growing up on the South Side. Wright recalls the school as being overcrowded with hungry kids, crossing gang routes, surrounded by crime, and on a shutdown list. According to Wright, Comer became "the champion of renaissance and reconstruction efforts." 
As the head of her class, Wright was invited to meet Comer and they took a walk down the hallways of Paul Revere. Wright remembers,

---
"Mr. Comer told me that he believed in me."

—Topel Wright
---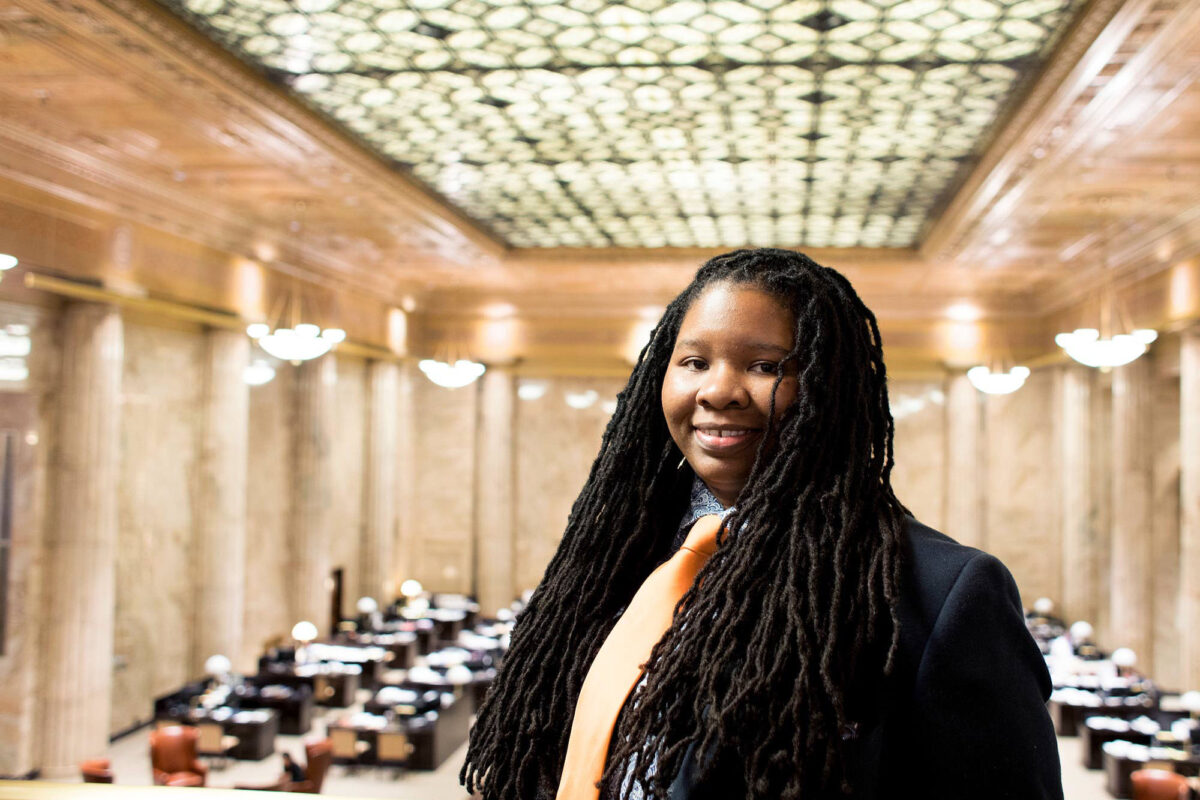 Comer gave Wright a comb that women in the Brazilian Amazon had handed to him with the message to never lose touch with who you are and your traditions. When Wright was 14, her understanding of success was limited to performing artists and basketball players, but after meeting Comer, Wright began to form a new idea of success that would utilize her talents. It took some time before the full effect of this conversation crystallized for Wright, but she knew that Comer had given her something priceless. She said, "My mind shifted to value creation and tradition over materialism." 
Comer's involvement began with small yet poignant moments and quickly broadened. Wright and her fellow students received customized Lands' End uniforms, saw the school cleaned up and renovated, and spent time in the neighborhood park that Comer rebuilt to provide youth with a safe green space. The benefits didn't stop there. 
---
"Ultimately, I never expected that Mr. Comer would speak at our graduation and promise to pay for all of us to go to college," said Wright. "On top of meeting and being inspired by Mr. Comer, I got a full ride to college and an opportunity to be part of a new community, a new family."

—Topel Wright
---
When the Gary Comer Youth Center was established in 2006, Wright embraced the opportunity to help by mentoring young people at the center. "I step back and hear the kids out as people with their own experiences," Wright said. She remembers what it is like to be faced with hardships from a young age, and believes it is easier for her to be empathetic with the students because, "someone who comes from their same background is going to be better able to rationalize with and challenge them. Yet, at the same time, I know that they cannot let those hardships be the reason they don't try." Wright continues to stay involved because she believes that "working at the youth center is an incredible dynamic. It is special because not only am I seeing students follow in my footsteps, but I am able to see the bigger picture of Mr. Comer's vision coming true."
For Wright, it is imperative that young people know they will make the greatest impact by pursuing their passions as their true selves. "The world will want to change them — to change their hair, how they speak, how they dress, how they love, how they care about others, how they express themselves," she said. "You need to get to a place where you know yourself, where you are confident in who you are and love the person you are. Then you will go about life in a healthier way and be better able to care for and have empathy for others." 
At a recent career day organized by the youth center, Wright met a student who said she wasn't sure if she wanted to major in technorganic physiology or stem cell research. Wright thought, "Where would I be if I had that mindset and opportunity at 14?" This experience reinforced Wright's belief in the need for community programs. She said, "If we could keep the youth center open 24 hours and we had 24 of them across the city, I am sure there would be a large drop in crime, in dropout rates, in recidivism, and the pipeline to prison could disappear."
Improving the world around her is how Wright measures her personal success. Her goal is to aid education efforts and expose underserved students to opportunities in science. She wants to expand her knowledge base by learning how to code and bring people together to create exponential change. Wright said, "I'd like to build applications that bridge the gap between funding and resources to connect those in need with those that can help. For example, if there was an organic farmer having trouble making sales, an app could help connect the farmer to a food desert. Ideally, all it would take is the click of an app to alert individuals of mutually beneficial partnerships."
Wright believes human connections are what strengthen communities and advocates for people to get involved. She said, "If Mr. Comer had kept his involvement at arm's length, he never would have seen the extent of need nor felt what it meant to send kids to college and create a safe space for children in a dangerous situation." Wright is hopeful she can significantly impact underserved populations.
---
"What I learned most from Mr. Comer was to be audacious with ambitions and visions for the future. I'd love to use my ambition to create a hub or an ecosystem of like-minded individuals who have the wherewithal, the opportunity, or the means to grow communities."

—Topel Wright
---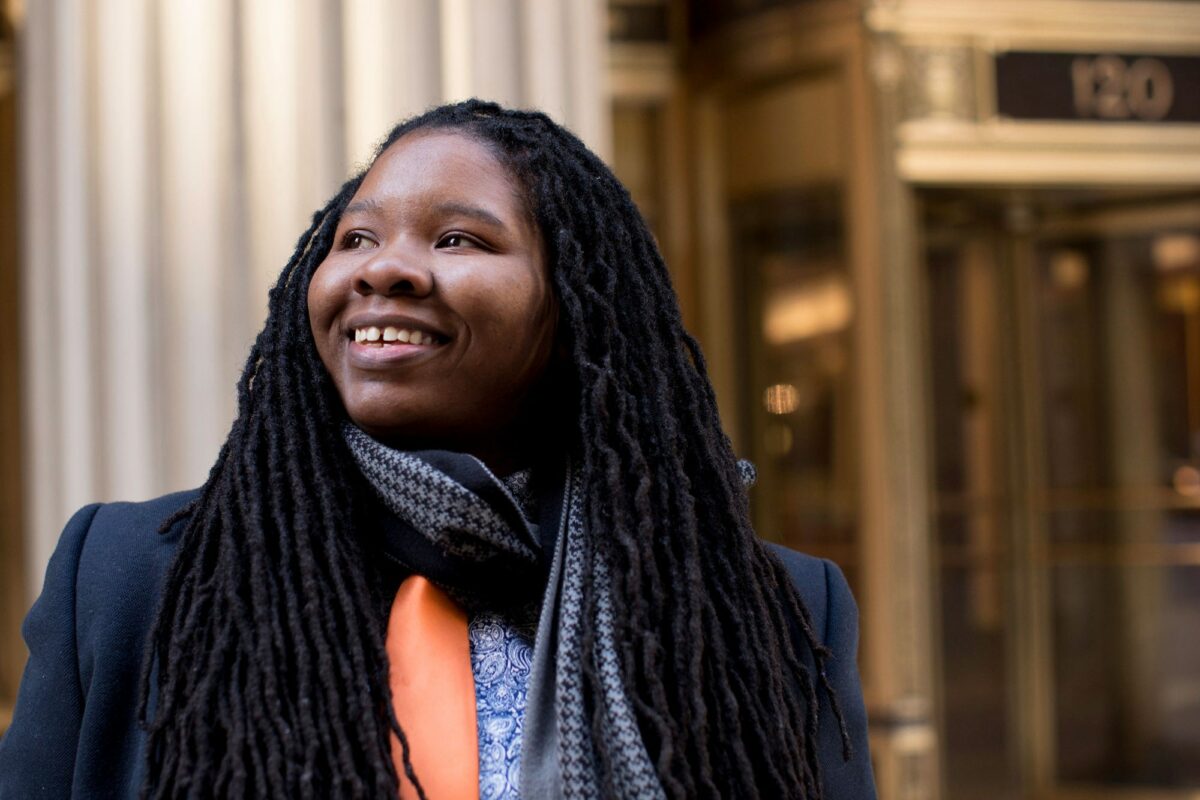 ---
"I want my story to ultimately compel you to reach out personally to those who are not like you and those who are in need."

—Topel Wright
---